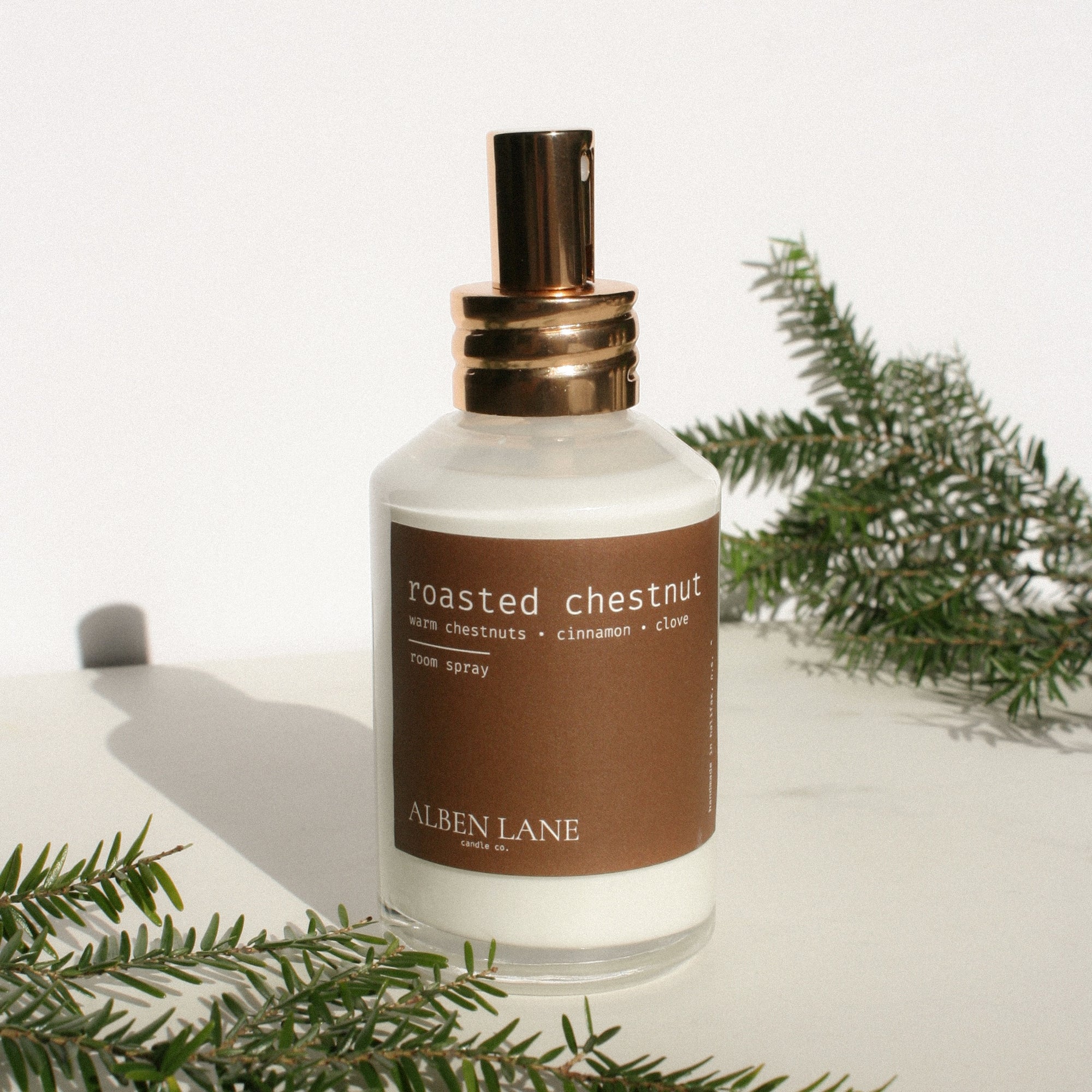 roasted chestnut room spray
Regular price
Sale price
$22.00
Unit price
per
Safer for pets and people than typical mass-produced sprays, our room sprays will refresh your space instantly.
Roasted Chestnut is a warm, cozy scent featuring the spices of the holidays—cinnamon and clove.

how to use

shake well before use.
spray 2-3 pumps throughout the immediate space and refresh as needed.
avoid direct contact with delicate fabrics and surfaces.
enjoy!
check_circle In Stock
cancel Sold out
Pickup currently unavailable at
Free delivery — on all orders over $100!
Secure checkout with
why are the room sprays "milky?"

this is a great question! we have a video here explaining this, but when we were creating our spray formula, we had to make sure the fragrance oil was able to combine with the base.

our first formulas did combine perfectly, but were alcohol based and therefore less safe for pets and people than this formula is.

we switched up the formula, and the reaction that occurs when the oil is mixed with the base simply turns the solution white!

that being said, the spray will not stain dark surfaces or fabric if sprayed normally (i.e. not one inch away from a couch/directly at it).
what are parabens and phthalates?

parabens are artificial preservatives often found in cosmetics, and phthalates are groups of chemicals commonly found in countless products, such as soaps, shampoos, toys, perfumes, etc. typically, they act as a plasticizer... ew.


since the scientific community is still unsure of all the possible side effects of prolonged exposure to both chemicals, we've decided not to use them in our candles. we want to keep Alben Lane candles as safe as possible for people, pets and planet!
what makes alben lane sustainable?

we love this question. sustainability has and always will be at the forefront of our brand—we've got a page on our site dedicated to it!
how long will my order take to get to me?

this depends on where you are! typically, it takes between 2-4 days for us to process your order internally depending on lots of factors (like the time of year, day of the week, etc.). this does not include the time it takes for our carriers to get your package to you—these are listed below.

there are only two of us, and we do everything we can to get your orders to you as soon as possible!

here are our standard times:

local delivery: 3-6 days post-order
eastern canada: 1-3 days once fulfilled
western canada: 3-6 days once fulfilled
united states: 3-6 days once fulfilled

note: these are just estimates and may not reflect all shipping times.