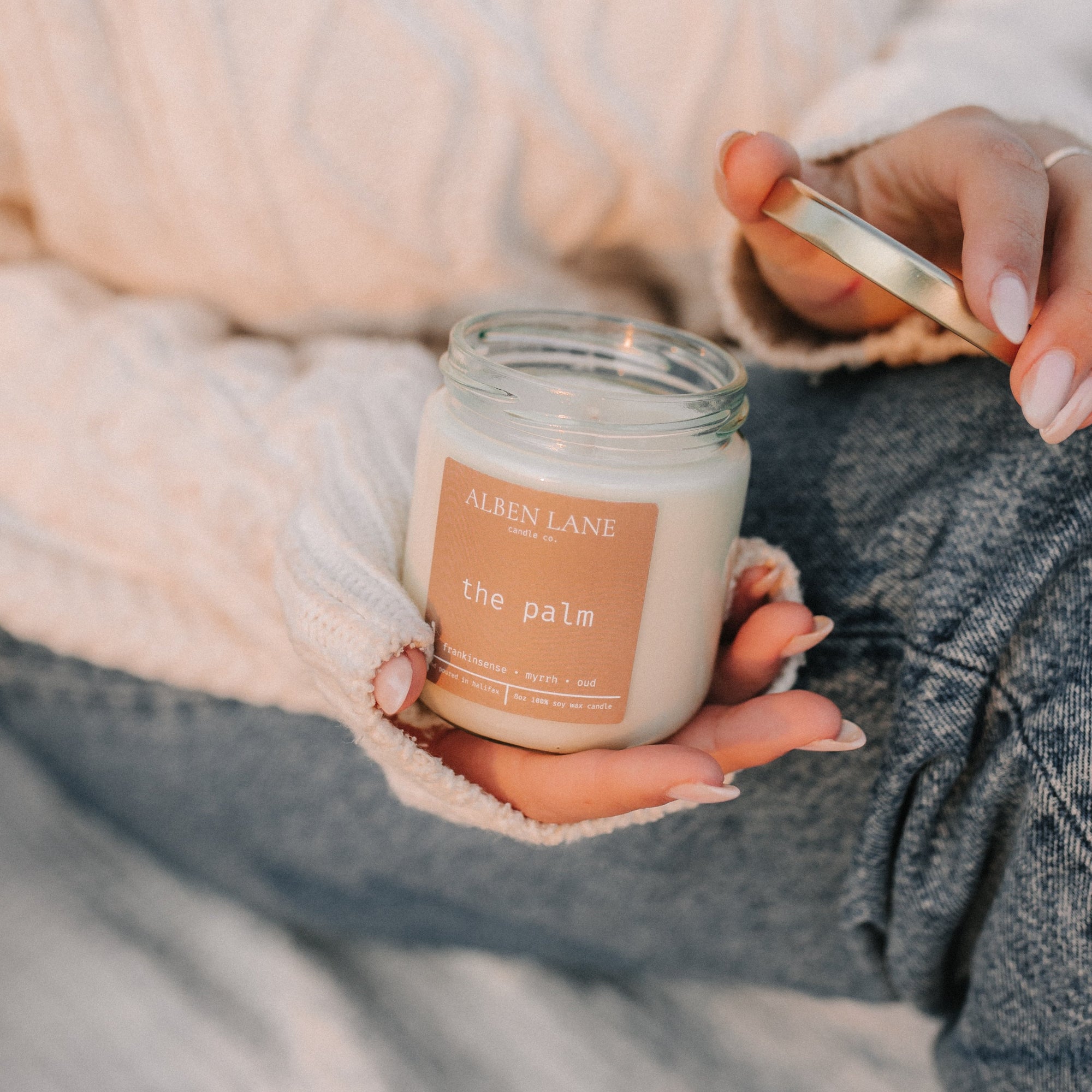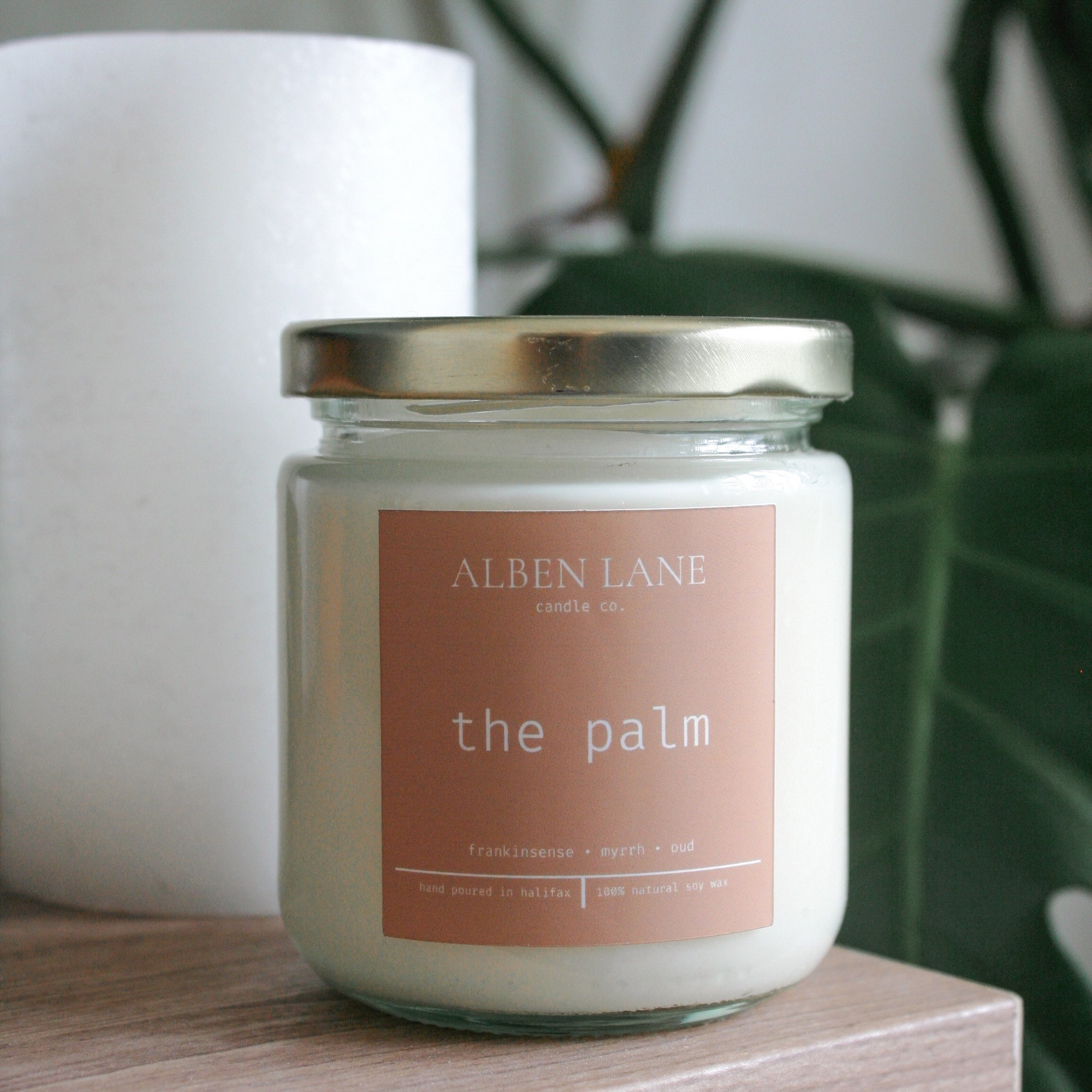 Regular price
Sale price
$15.00
Unit price
per
A rich, full, fragrance with notes from the scents of Dubai, The Palm contains frankincense, myrrh, and oud.
Growing up, the two of us spent some time in Dubai, with one of us even living there for over 4 years. The smells and fragrances were and still are like nothing we've ever experienced before, so we've brought it back home and recreated it for you in a candle.
With notes of frankincense, myrrh, and oud, The Palm gives off a warm, earthy air with a slight hint of sweetness so addictive, you'll just have to try it for yourself 😉
check_circle In Stock
cancel Sold out
Pickup currently unavailable at
Free delivery — on all orders over $100!
Secure checkout with
how are your candles made?

our candles are hand-poured in small batches by the two of us in our halifax studio! they're also labelled, prepped, and packaged by hand.

why small batches? this is to ensure the highest level of quality in each and every single candle that leaves our studio.
what makes your candles sustainable?

we love this question. sustainability has and always will be at the forefront of our brand. here are some of the ways our candles and packaging are environmentally-friendly!

our labels are made out of post-consumer waste and FSC certified paper, and are printed locally to reduce our carbon footprint
our jars are sourced locally and are glass, making them fully recyclable—or reusable!
we use only 100% soy wax with no additives
we make our business cards by hand using scrap cardboard from our jar boxes
our packing peanuts are made from cornstarch, are completely biodegradable and melt in water
we get our packing peanuts from local businesses who receive them with shipments so they are also reused
our packing paper is 100% recycled or is being re-used from our supply shipments
all of our packaging including our boxes is 100% recyclable, and our product boxes like reed diffuser and pottery vessel boxes are made from 100% recycled material
the bags we use for local delivery orders are made from recycled paper that would otherwise enter the waste system, and are handmade by Halifax-based Greenii Inc.
our thank you and candle care cards are printed on hemp and are made with 100% renewable energy

we always try to avoid unnecessary waste in every step of our business, including talking to our suppliers on packing our supplies more sustainability!

we are constantly trying to improve, learn and make our sustainability efforts even more effective—we'd love to hear your ideas!
why soy wax?

soy wax is a renewable resource derived from veggies (soy beans, ofc) that burns cleanly and produces less soot and pollutants than other types of wax.

it also burns much slower than paraffin wax, meaning your candles will last longer even if they're smaller than, say, a bath and body works candle—leading to less waste over time!

lastly, soy wax will carry fragrance really well without chemical additives—which we would never use.
what are parabens and phthalates?

parabens are artificial preservatives often found in cosmetics, and phthalates are groups of chemicals commonly found in countless products, such as soaps, shampoos, toys, perfumes, etc. typically, they act as a plasticizer... ew.


since the scientific community is still unsure of all the possible side effects of prolonged exposure to both chemicals, we've decided not to use them in our candles. we want to keep Alben Lane candles as safe as possible for people, pets and planet!
how long will my order take to get to me?

this depends on where you are! typically, it takes between 2-4 days for us to process your order internally depending on lots of factors (like the time of year, day of the week, etc.). this does not include the time it takes for our carriers to get your package to you—these are listed below.

there are only two of us, and we do everything we can to get your orders to you as soon as possible!

here are our standard times:

local delivery: 3-6 days post-order
eastern canada: 1-3 days once fulfilled
western canada: 3-6 days once fulfilled
united states: 3-6 days once fulfilled

note: these are just estimates and may not reflect all shipping times.