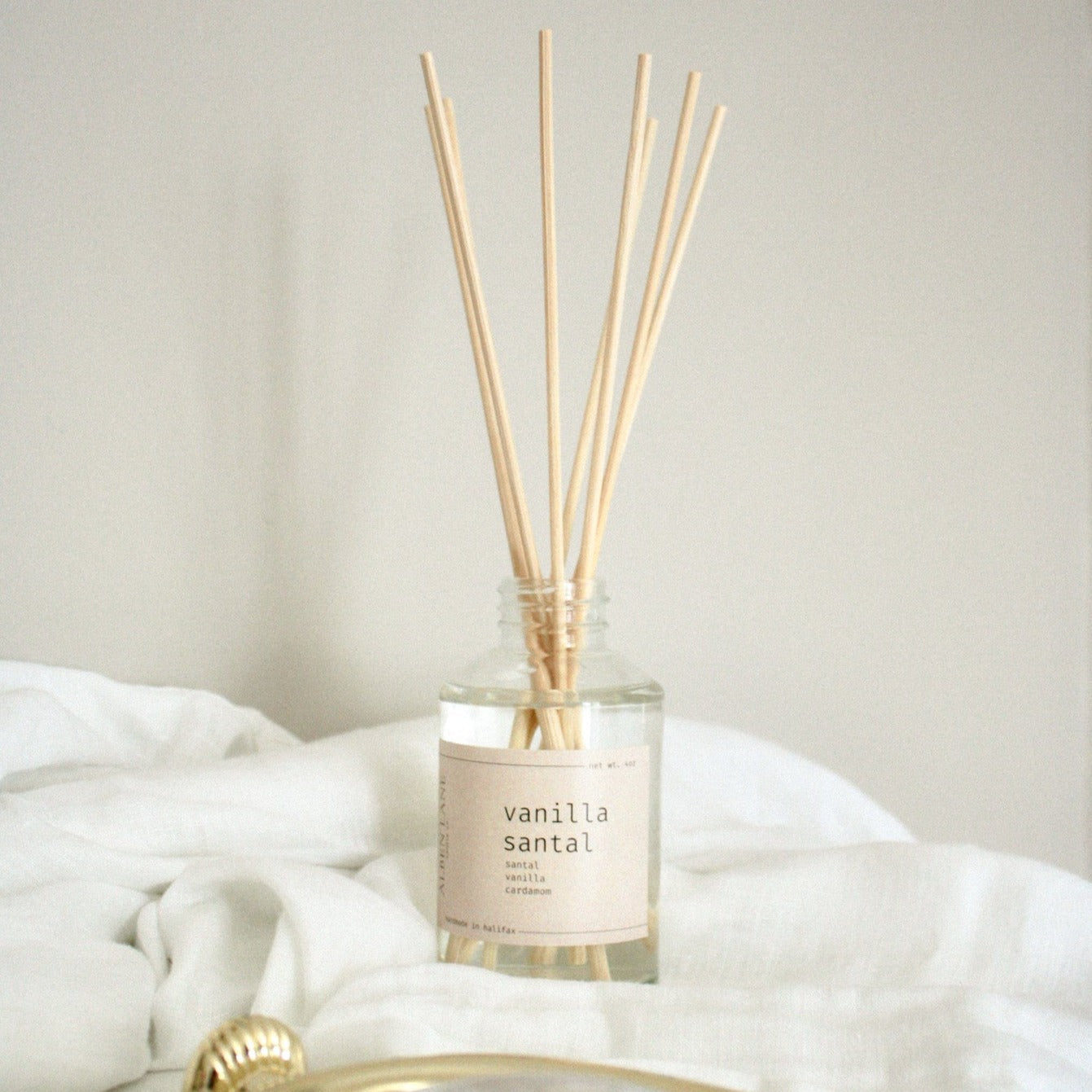 vanilla santal reed diffuser
Regular price
Sale price
$28.00
Unit price
per
Vanilla Santal is a warm scent with notes of santal, vanilla, and cardamom—making it the perfect light, musky addition to your home 🌾
how to use

When you first take our bottle out of the box, make sure the lid is on tight and give it a little shake! Carefully open the lid and place all reed diffuser sticks in the bottle.
Let them sit for 24-48 hours to ensure the oil soaks the reeds
Flip reeds every 2-3 weeks or every time you need a scent boost!
check_circle In Stock
cancel Sold out
Pickup currently unavailable at
Free delivery — on all orders over $100!
Secure checkout with
what are parabens and phthalates?

parabens are artificial preservatives often found in cosmetics, and phthalates are groups of chemicals commonly found in countless products, such as soaps, shampoos, toys, perfumes, etc. typically, they act as a plasticizer... ew.


since the scientific community is still unsure of all the possible side effects of prolonged exposure to both chemicals, we've decided not to use them in our candles. we want to keep Alben Lane candles as safe as possible for people, pets and planet!
how long will my order take to get to me?

this depends on where you are! typically, it takes between 2-4 days for us to process your order internally depending on lots of factors (like the time of year, day of the week, etc.). this does not include the time it takes for our carriers to get your package to you—these are listed below.

there are only two of us, and we do everything we can to get your orders to you as soon as possible!

here are our standard times:

local delivery: 3-6 days post-order
eastern canada: 1-3 days once fulfilled
western canada: 3-6 days once fulfilled
united states: 3-6 days once fulfilled

note: these are just estimates and may not reflect all shipping times.